Why do we Choose dermatologist recommended eye cream for dark circles?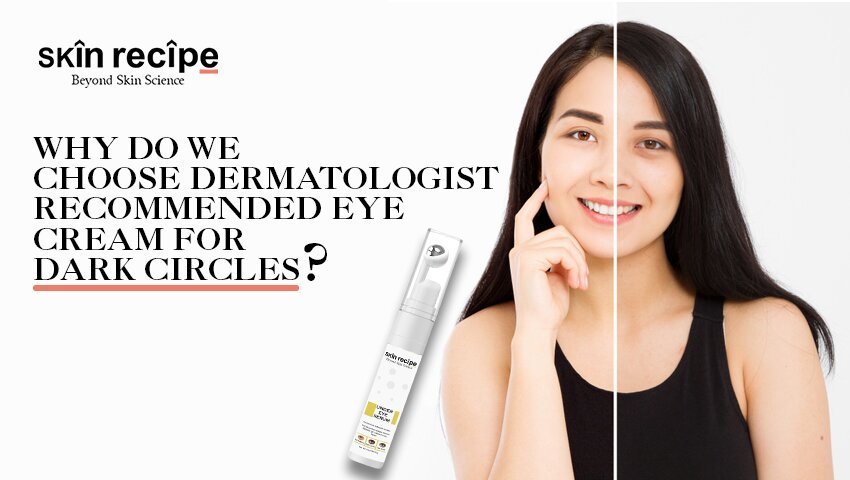 In the world of cosmetics, many options are available to enhance an individual's beauty. However, these also come with multiple harmful side effects due to trying to achieve a certain unhealthy standard. Instead, one should choose cosmetics focused on unlocking the beauty within oneself, like skin and hair naturally, focusing on the health directly affecting beauty. Therefore one can choose products offered by Skin Recipe as they each aim to replenish and revitalize an individual's body for the better.

Why choose products from Skin Recipe? 
The following are the reasons to choose products from skin recipes-
1. Products focusing on a particular issue - Treating one's skin is a personalized experience. Individuals who wish for the most effective results should engage in products developed to focus on their area of concern. An individual may want to focus on many aspects of skincare, such as dullness, wrinkles, acne, dryness, illness, etc., and by choosing from the options present at Skin Recipe, they will be guaranteed that they will see the results they want. 
2. Professionals recommend it - Professionals have verified multiple skin products offered by the company to be of the highest quality and effectiveness. One can therefore trust the company's products since professionals have recognized them. The dermatologist recommended eyecream for dark circles, face serums, conditioners, shampoos, face creams, and hair treatments have all been certified to be of the highest quality. One can be reassured that the products have been tested in professional spaces to ensure that it is healthy to use and produces the results organically. 
3. Target-focused ingredients - Each product is developed with a different combination of natural ingredients and nutrients functioning to achieve the skincare one requires. One can refer to the ingredients that are available to be read when purchasing the products and can corroborate them according to their preferences, requirements, allergies, etc. Items often integrate the use of organic ingredients like onion, green tea, natural oils, etc., to derive the best advantages each can have on the skin. 
4. Products are complementary to each other - The products available at Skin Recipe have been designed in a way that they complement each other in improving the health and beauty of an individual's skin or hair together. The company recommends specific regimes an individual can integrate into their lifestyle by suggesting how and when the products can be applied. Similarly, products like shampoos and conditioners complement each other as they both focus on developing different aspects of an individual's hair, working together to produce the best result. 
Conclusion
If an individual is looking forward to maintaining their beauty, they should look no further than first focusing on the health of different aspects of the body such as skin and hair. By using products of a company like Skin Recipe, an individual is guaranteed the best results due to the in-depth focus of the products to replenish one's hair or skin from the roots and ensure they can benefit in the long run as well.