Get Radiant Skin With Skin Recipe Dermatologist Recommended Face Serum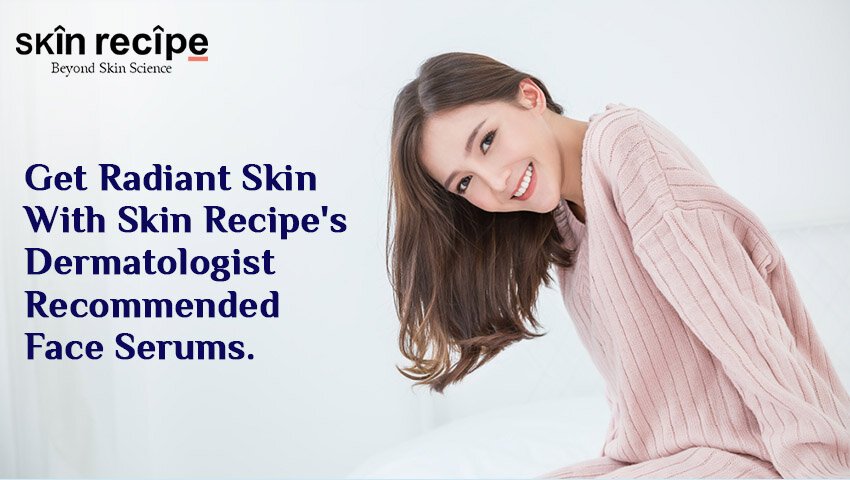 Having healthy, glowing skin is a dream of all. While a solid skincare routine is the foundation for attractive skin, using a Dermatologist recommended face serum can elevate your skincare game to the next level. Skin Recipe, a reputable skincare brand, offers a variety of potent and effective face serums formulated by experts to address a variety of skin concerns. In this blog, we will discuss the advantages of incorporating Skin Recipe's dermatologist-recommended face serums into your daily routine and how they can help you attain the radiant complexion you've always dreamed of.
What are Face Serums?
Face serums are lightweight, fast-absorbing liquids that contain concentrated active ingredients. Their molecular structure permits them to penetrate deeper into the skin, delivering potent nutrients to the targeted areas. Face serums can help address specific skin concerns, such as fine lines, hyperpigmentation, and dullness, among others when added to a skincare regimen.
Why Skin Recipe Face Serums are so Effective? 
The Expertise of Dermatologists in Formulation
Skin Recipe's face serums are formulated by dermatologists who understand the complexities of various skin types and concerns. Our formulations are meticulously crafted to ensure that each ingredient functions synergistically without causing harm to the skin. This dermatologist-recommended method distinguishes Skin Recipe as a trustworthy and secure option for your skincare needs.
High-Quality Ingredients
Skin Recipe uses only dermatologist-approved, high-quality ingredients in their face serums. Whether it's our Vitamin C for brightening, Hyaluronic Acid for hydration, or Retinol for anti-aging, every ingredient is chosen for its demonstrated efficacy in addressing particular skin concerns.
Gentle Formulations for All Skin Types
Every Dermatologist recommended face serum from Skin Recipe is suitable for all skin types, including those with sensitive skin. The formulations are gentle and safe for daily use because they don't include any irritating or harsh chemicals.
Proven
Results

and

Customer

Testimonials 

● Our face serums have garnered praise from consumers around the nation. Numerous users have reported noticeable improvements in their skin's texture, tone, and overall complexion after daily application of these serums.

● Positive feedback highlights softer skin, diminished fine lines, a more even skin tone, and a significant decrease in acne outbreaks.

● Customers also appreciate the serums' lightweight and non-greasy texture, which makes them ideal for layering with other skincare products and makeup.

● Every Skin Recipe Dermatologist recommended face serum is flexible enough to be included smoothly into a variety of skin care regimens, assuring their effectiveness for people with varying needs and preferences.
Conclusion
Each Dermatologist recommended face serum by Skin Recipe is a potent and effective treatment for its targeted skin issues. These serums can elevate your skincare routine and help you achieve the radiant and healthy complexion you desire, thanks to their expert formulations and high-quality ingredients. Embrace the power of Dermatologist recommended face serum with Skin Recipe and unlock your skin's true potential! If you're eager to try our face serums, you can purchase them easily on our website. Before making a purchase, you should check out our selection of face serums and select the one that best addresses your skin concerns.