All you need to know about under-eye serums!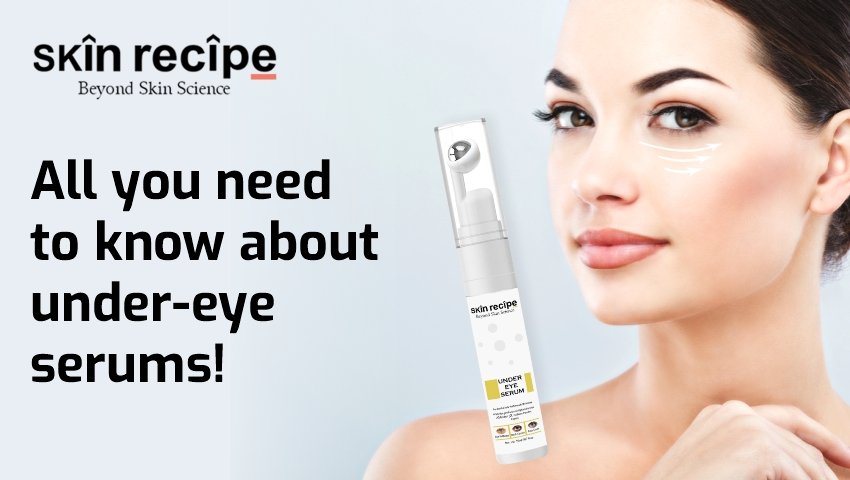 As we know this thing for a long time but let us remind you again: The eyes are the most crucial part of the whole body and the eye area is one of the first places on your face that shows signs of aging. Nowadays, Due to hectic life and hectic working schedule, most people are more prone to excess screen time, stress, and so on. This leads to severe serious problems such as Dark circles, dark spots, puffiness, and swelling around the eyes.
Tiredness is the main reason behind dark circles. The shadows cast by swollen eyelids or hollows under your eyes that give the appearance of dark circles may be simply a natural component of aging.
The best way to reduce the dark circles is to apply under-eye serums. Eye serum plays a vital role in reducing dark circles. By keeping these issues in mind Skin Recipe has designed Under Eye Serum - a lightweight product enriched with the goodness of Alpha Glycosyl, Aldavine- 5x, caffeine powder, and papaya which effectively reduces the dark circles, puffiness, or swelling around the eyes and supports healthy eyes and vision. It deeply penetrates the skin simply. For best results, use a tiny quantity under each eye and distribute it evenly.
Let us know more about under-eye serums so that the questions get vanished that come up in your mind
Under Eye serums are lightweight products primarily designed to treat skin issues related to eyes like dark circles, puffiness & crow's feet. Eye serums are really helpful because the skin around your eyes is thinner and the first to age. With the use of right eye serum or cream you can resolve all the issues like wrinkles, dark circles and under eye puffiness. Knowing this Buy best under-eye serum that will help you avoid the appearance of wrinkles and dark circles if you start using Under Eye Serums.

Perks of choosing Skin Recipe's Under Eye Serums:
Choosing one of the Best Dermatologist Recommended Eye serum is such a difficult task right? But don't need to worry as Skin Recipe is always here to solve all your skin-related issues with its exotic formulations and inventions. While knowing the high need for eyes serums we have designed Under Eye Serums that help resolve all your eye-related issues such as dark circles, puffiness, and swelling around the eyes.
Here are some benefits of using Under Eye Serum:
Lessens the visibility of dark circles
Dark circles are horrible for every girl. It looks disgusting in appearance and if any girl reading this, I'm sure they will relate to me. Dark circles are caused due to excess stress and are more prone to screen time. To get free from dark circles buy the best under-eye serum. This serum is made with powerful ingredients that help reduce the appearance of discoloration and provides a brightening boost.
As all of us spend the most time on our mobile phones while scrolling social media or while reading a blog like right now you're doing, due to do all the tasks efficiently our eyes get tired and it's a high need to relax them as it is a crucial organ. The Under eye serum contains ingredients that have a very calming and soothing effect on the eyes. It has a lightweight, non-greasy, and smooth texture that lowers skin issues and provides relaxation to tired eyes.
Buy the best under-eye cream for dark circles from Skin Recipe's plethora of skincare, hair care, eye care, face care, and body care ranges. Explore and resolve all your skin issues with Skin Recipe. If you're searching for the best under-eye serums, then you've come to the right place. Because:
"It's Time to let your eyes speak for themselves!"